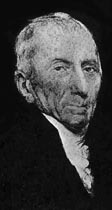 The Nathan Dane Collaborative is a model project designed to expand the archival resources of both the Massachusetts Historical Society and the Beverly Historical Society. The Collaborative is designed to provide a catalyst for local historical societies to catalog and digitize various manuscript collections that are particular to their local institution. See more about the collaboration here or view the article featuring the project at Common-Place.org.
Resources
Dane Digitization Project (Beverly Historical Society)
Research
Bray, Matthew. Nathan Dane and his Involvement in the Massachusetts Temperance Society. January 22, 2002.
Cahill, Shauna. American Foreign Relations During the Articles of Confederation through the Perspective of Nathan Dane. January 23, 2002.
Engle, Rebecca. Nathan Dane's American Law . January 21, 2002.
Gendall, Lindsey. Nathan Dane and his Influence on Manassas Cutler and the settlement of Marietta, Ohio. December 19, 2001.
Mahan, Marc. The Life of Nathan Dane. January 15, 2002.
Murray, Patrick. Nathan Dane and the Ordinance of 1787. January 23, 2002.
Norton, Ethan. Nathan Dane's Role in the Harford Convention of 1814-1815. January 23, 2002.
Links
The Institute for Intermediary Studies
Primaryresearch.org is partnering with TIFIS as they are transcribing Nathan Dane's manuscript A Moral and Political Survey of America.
"Portals to the Past" Common-Place.org
Massachusetts Historical Society
ABIGAIL (MHS Online Catalog) Type in "Nathan Dane"!