"Claypit Cemetery" in Lowell, MA dates back as far as 1700.
added 12/31/2007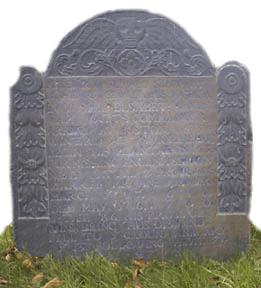 We have attempted to provide a visual representation of Claypit Cemetery on our site as a way of commemorating those buried there. Since the actual site remains uncared for, and what is left of the markers continue to disappear, we hope this serves as the next-best way of remembering them.
This is still a work in progress. We welcome any additional information you may have about those buried at Claypit, and will make every attempt to continually make updates to the biographical information we have included. Please contact us at comments@primaryresearch.org.
---
by W. Dean Eastman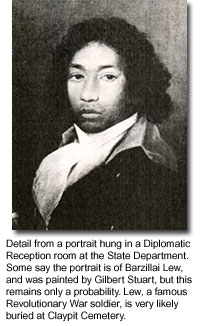 Primaryresearch.org first became aware of the Claypit Cemetery project when Rebecca Duda, an eight-grade social studies teacher at Dracut's Lakeview Jr. High School contacted us. We have both known and respected Rebecca for over twenty years. Rebecca was a former student of mine at Beverly High School and a fellow classmate of Kevin McGrath. After graduating from college, Rebecca spent many hours of field work in my Primary Research Through the History of Beverly class and eventually was a student teacher at her alma mater. Rebecca is an outstanding teacher who, among her many accolades, was selected in 2006 as the Massachusetts Council for the Social Studies recipient of the William Spratt Award for Excellence in Teaching Middle School. Rebecca, along with students Emily Fox and Meghan Fawcett, and a fellow teacher Catie Pelland, have been diligently spending hours after school, on weekends, and vacations visiting a number of archives. Martha Mayo of the Center for Lowell History was invaluable in providing research assistance and access to genealogical information. Their research led to a discovery of a largely unknown and overgrown cemetery that is in fact Dracut's oldest burial ground. Rebecca originally asked us for advice in researching, restoring, and preserving what is known as the "Claypit Cemetery". She sent us photos of an area tangled with overgrown vines and bushes. Many gravestones had been broken or stolen. It appeared that only a machete would be able to hack through the vegetation. How in the world did Dracut's oldest burial ground meet this fate? [Read more]
---
by Rebecca Duda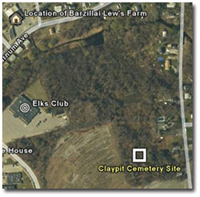 As cars drive by the Brunswick Bowling Alley along the Pawtucket Boulevard in Lowell, very few, if any, are aware that they are passing by one of the earliest vestiges of Dracut history. Located between the bowling alley and Varnum Avenue is an abandoned, wooded lot. However, this is unlike other lots along the Boulevard. Here some of Dracut's earliest and most prominent citizens lay interred. This is the site of the Claypit Cemetery. [Read more]
---
by Emily Fox
Through census research, we began to discover that there were people listed as "free colored" living in the neighborhood surrounding the cemetery. Were they buried there? Where they involved in the Underground Railroad? Much more was to be discovered through researching census records.
Eighth-grade student Emily Fox explains how it is done.