Source: The Boston Directory: Containing the City Record, General Directory of the Citizens, Special Directory of Trades, Professions, &c. Almanac from July 1848 to July 1849; pp. 230-232.
»

Digitized Page Images (912.51 kB)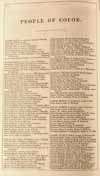 The 1848-49 Boston City Directory was the last to discriminate between blacks and whites. There is a separate list entitled "People of Color". This proved to be useful for the purposes of our research, and provided a foundation from which to build our database. This information was later integrated with data from the United States Census of 1850. More information about this database, along with access, is available on this website.
The original page images from the 1848-49 directory are available for viewing by clicking on the link above. This information was transcribed into a table by Uri Lafontant and is provided below. It was also integrated with our database which is searchable.