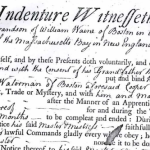 "Binding Out" was a labor system that connected host families with poor boys and girls willing to serve their masters and mistresses as apprentices or servants. The average term of service was just over ten years. The first child bound out in Massachusetts was in 1636, when Benjamin Eaton was indentured to Bridget Fuller of Plymouth County. However, very little is known about what happened to these people after the completion of their contract. Read more about the "binding-out" system of apprenticeship here.
This is an outgrowth of our involvement in the Boston Overseers of the Poor Project sponsored by the Colonial Society of Massachusetts in 2009.  Our project resulted in a searchable database of children bound out throughout Massachusetts.     Starting with known records of apprenticeship, linked below, we are actively seeking submissions of information to help add to this list of child apprentices in colonial and early-America Massachusetts. We began with outreach to both Essex and Middlesex counties but have expanded our search to include all of Massachusetts (as well as pre-1820 Maine, which was then part of Massachusetts). Feel free to use the list of questions to the right as a guide, and let us know if you find anything!
For more in-depth information on this fascinating topic, read Lawrence W. Towner's "The Indentures of Boston's Poor Apprentices, 1734-1805" as well as Ruth Herndon's research.
Georgetown
Gloucester
Haverhill
Lynn
Manchester
Marblehead
Newbury
Newburyport
Salem